11,000 using the walkway in one week
The walkway through Dean Valley is immensely popular and the count of those using the walkway in August showed a dramatic rise in numbers by 37% to over 11,000 people using the walkway over a seven day period.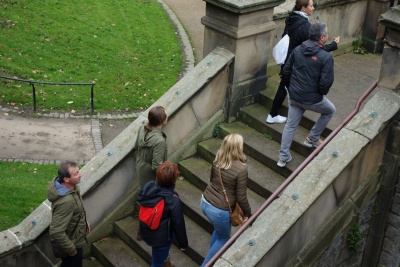 In partnership with Living Streets Scotland, a charity promoting safe everyday walking in the UK, we installed automatic counters beside St Bernard's Well, in the heart of Dean Valley, to find out how many people exactly were using the walkway on a daily basis. Recent numbers from Living Streets show that an impressive total of 11,001 people either walked, jogged or cycled past St. Bernhard's Well between Wednesday 23rd and Tuesday 29th August. 
See Living Street's count data for August here
Sunday proved to be the most popular day of the week counting 2353 people using the walkway during the day. These high numbers have been borne out by our own observations. We noticed that the walkway is beginning to be quite crowded between 12 noon and 9pm in the summer months as groups of foreign school children, tourists led by blue flag guides, lovers of the pictureseque nature of the Valley and many more visitors are finding their way down to the walkway.
Our recent report 'Proposed Dean Valley Renovation: First Phase Feasibility Study', funded by SUSTRANS, Edinburgh Council and private donations, outlines recommendations for the repair and restoration of the Dean Valley walkway and identifies the amount of work which needs to be done to bring the walkway up to a safe and enjoyable experience. 
The walkway though Dean Valley is part of the 12.25 miles long Water of Leith Walkway that runs all the way from Balerno to Leith, via the heart of Edinburgh. 
Read more about our project with Livings Streets Scotland